New STARSTRUCK Audioplay For CD And MP3!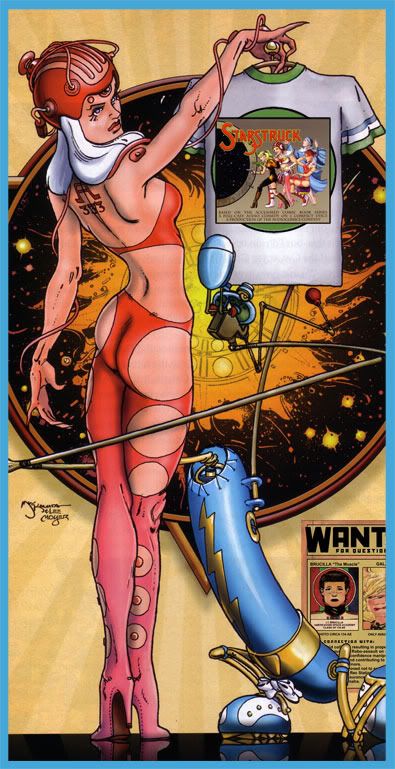 Erotica Ann says, "Check this out!"*
STARSTRUCK, the Sci-Fi opus about rebel grrrls, has conquered the Dimension of Sound: the stage production now invades your ears as an audioplay available on CD and MP3!
"FOR THOSE JUST TUNING IN..."
STARSTRUCK is the critically-acclaimed SF series that spans many media; from stage play, to illustrated series, to graphic novel, to audioplay, and soon to radio. Its
history
threads the through-line of recent progressive pop culture, from Punk-era NYC, to the 80's adult comics renaissance, cyberpunk novels, the Riot Grrrl manifesto, and up to contemporary Kickass Heroines.
The root of it all is the original stage play, done off-Broadway in 1980 and 1983. New York City was in economic straits, and the creative underground responded with a "do-it-yourself" ethic of forging with what was at hand. This era is celebrated (and imitated) now for its music scene, which spawned Punk, PostPunk, HipHop, and Avant Jazz. But this cross-pollinated culture also included alternative art galleries, graffiti artists, indie film pioneers (Jim Jarmusch, John Sayles, Spike Lee), and experimental theatre.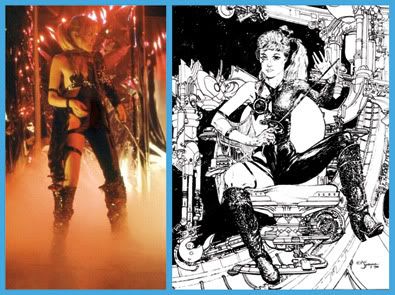 Elaine Lee as Galatia 9
(photo, Sean Smith; art, M. W. Kaluta)
Elaine Lee, an Emmy-nominated actor, tilled a theatrical troupe in this hothouse. STARSTRUCK, co-written with Susan Norfleet and Dale Place, was a science fiction burlesque that fondly spoofed the tropes of the genre, while quipping it with feminist and absurdist modernity. The sets, costumes, and poster art were designed by famed illustrator Michael Wm. Kaluta.
Lee and Kaluta then parlayed the notoriety of the stage play into a series of adult illustrated stories in HEAVY METAL and then to independent comic books. The comics are revered now as being as important in the adult 80's renaissance as visionary works like WATCHMEN, AMERICAN SPLENDOR, and SANDMAN.
A deluxe, large-size
collection
of these stories is being published in March 2011, with expanded Kaluta art and painted color by Lee Moyer.
The STARSTRUCK Deluxe Collection,
available March 1, 2011!
"AND ELSEWHERE, AT THAT VERY MOMENT..."
Many have heard of the STARSTRUCK play but few have seen it. The series is most known by its comic stories, which are all actually prequels to the play.
The Audiocomics Company remedies this with their timely new adaption of the play as an audioplay. This finally brings the play, and the dimension of sound, to the general public. Now fans used to the visual side of STARSTRUCK -from Kaluta's art, Moyer's color, or Sean Smith's stage photos- can finally hear the stage personalities, sound effects, and Dwight Dixon's original score.
This also homages
the roots of STARSTRUCK
in several ways. It bands together a new troupe of actors to bring it to life. But its sound format also recalls all of the BUCK ROGERS radio dramas, TV shows like TOM CORBETT, and films like BARBARELLA that inspired the play. Fittingly, it was created in cooperation with WMPG radio in Portland, and will run as radio broadcasts on other stations going forward. Plus, there is talk of new adventures being written directly for radio in the future.
This also honors the future in another way. For fans who have read the comics stories over the years, this finally provides them with 'the next step'. All of those prequel stories, with their layered casts and situations, were always a set-up for the play that most have never experienced. Now audiences can enjoy the middle of the saga at last, seeing how all those set-ups payoff.
(I say middle, because there is an implied bigger picture of the saga, and hopefully we'll be lucky enough to enjoy that ultimate finale in some form someday.)
But who's behind the curtain? The Audiocomics Company, led by Lance Roger Axt and William Dufris, are committed to bringing all the benefits of sound to the comics world in audioplay adaptions with full casts, scores, and sound effects. Not content with the traditional audiobooks circuit in the book stores, they are expanding the market to new areas of distribution to win a new world of fans: comic and sci-fi conventions, download sites, indie culture blogs, and social networks. With the broad success of comics movies and the rise of new media like motion comics, the timing seems perfect for this new dimension in comics adaptions.
Axt's mission is to bring a higher calibre of audio adventures to a hipper audience with the best production values. "STARSTRUCK was recorded at The Studio, one of Portland's best recording facilities for indie music and audio books," he says, "and mastered by Mind's Eye Productions, one of the most prominent production studios in the audio book industry."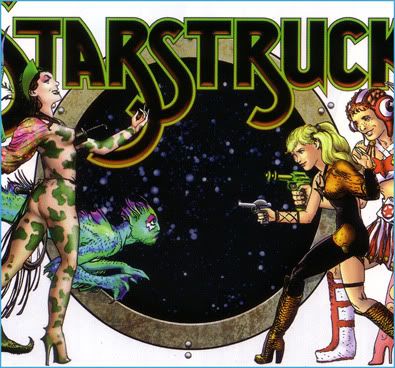 "WE FIND OUR HEROES..."
So what's the score?
STARSTRUCK The AudioPlay is a rollicking romp through outer space, where we find our heroes are all women. All this and bioplasmic ships, psychic fishgirls, emancipated pleasure droids, schizoid dandies, and cyborg ogres, too! How could you lose?
Captain Galatia 9 has to lead her mismatched crew against the machinations of the lethal vamp Verloona with the fate of the free universe at stake.
The play is similar in structure to a episode of classic STAR TREK, a strategic chess game of two ships filmed on two sets. STAR TREK did many different story styles in its run, but is fondly remembered for comedic episodes like "The Trouble With Tribbles". The play hews in that farcical direction. This may come as a surprise to many comic fans, as any slapstick in comics issues often interwove with nuanced character, barbed satire, and serious edge. (The Harry Palmer storyline, for instance, is venerated for its hardboiled noir fiction tone.) But the audioplay captures all the lunacy of the original play as it rebounds through Sci-Fi chestnuts like a pinball through a chandelier.
What's it like? Imagine the city-smart sass of Princess Leia in STAR WARS, and with most of those male parts played by women. The play is Sci-Fi through the funhouse mirror of Firesign Theatre or Douglas Adams: ramped-up, some crazed vamp, a little camp.
Left: Eeeeeeeeeeluh; Right: Erotica Ann
The Audiocomics Company has pulled together a crack cast that rides this classic like the Pony Express; plenty of hollaring, jolts, and adrenalin along the way. Their performances are all fun and full of gusto, and here are a few highlights:
-Brucilla The Muscle is Galatia's right-arm strongarm.
Jennywren Sanders
makes this wisecracking Kansas bohunk with the big heart swing with all the wild musclehead moxy you'd want, and surprises later crooning a supple, romantic song.
-The computer on the villains' ship, NORM, is like HAL 9000 possessed by Robin Williams. The challenge of sudden mood changes and pop impersonations is reeled off quicksilver by
Lance Roger Axt
himself.
-Remember when Spock was trapped in the body of Marilyn Monroe? He doesn't but we do with Erotica Ann, the science officer for Galatia. Miz Ann is a former sex droid who gained encyclopedic consciousness but hasn't yet lost her come-hither programming. In short, a physical bimbo with a mind as bright as the sun. Her breathy helium coos, salacious lilt, and oddly vacuous brilliance are swiveled perfectly by
Kristina Balbo
.
-Eeeeeeeeeeluh the mermaid, the psychic warning system for the villains, is held captive in a tank of aphrodisial brew. In a haze of blissful bubbles,
Charly Duley
glides her rapturous ebb and flow with aplomb.
Verloona
-Above all, Verloona the villainess is stellar.
Denise Poirier
, most known for her voicework portraying AEON FLUX for the groundbreaking MTV animated series, is a marvel as the dangerously vain and seething evil queen of the starfields. Her purrs, growls, and roars are just as savory as Bette Davis (ALL ABOUT EVE) or Gloria Swanson (SUNSET BOULEVARD) or Anita Pallenberg (BARBARELLA). A terrific coup in casting and a hearty performance.
-Of special note is the score by
Dwight Dixon
. The original composer returned with synth-phonic cues that include heroic anthems, spectral washes, and even some Hendrix-ian guitar. An unsung creator of STARSTRUCK finally sprung.
-And also the soundscape by
William Dufris
with its crystal clear mix, clever effects, sharp pacing, and ambient backgrounds. (And Dufris throws in a rowdy portrayal of Captain Chaos.)
"TUNE IN NEXT TIME..."
So what's next?
The buzz is that Elaine Lee will write two more radio plays for performance.
The first would bridge the period between the comic stories we've seen and the play; this would explain how the unlikely crew of Galatia's ship came together, and how they first knew Eeeeeeeeeeluh the psychic fishgirl.
And the second would be a series of all-ages shorts about the misadventures of the beloved Galactic Girl Guides, the scofflaw urchins in the slapstick tradition of "Our Gang/ The Little Rascals".
"TONIGHT'S SHOW SPONSORED BY..."
I say, buy it now, buy it often!
The double-CD
can be ordered from
CD Baby
ZBS
Downloads
are available through
The AudioComics Company
CD Baby
ZBS
Napster
iTunes
Amazon MP3
Amazon UK
The Spoken Network
MySpace Music
Verizon
Media.net
EMusic
Rhapsody
Liquid Digital Media
---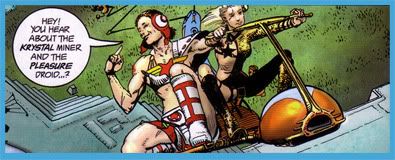 Here's a podcast
interview
with Elaine Lee and Lance Roger Axt!
And here are videos of the recording of the STARSTRUCK Audioplay!
StarstruckComics.com
*(promo image, this T-shirt does not exist)