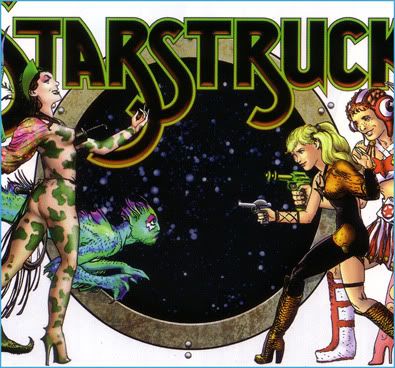 STARSTRUCK is about to invade your ears!
The legendary Sci-Fi series now corrupts the sound barrier with an all-new recording of the stage play on double-CD and MP3-downloads!
Pre-Order Now!
STARSTRUCK is most known by the critically-acclaimed graphic comix written by Elaine Lee and illustrated by Michael Kaluta. This series grew out their original collaboration, a stage play written by and starring Elaine and her sister, Susan. Created in NYC during the PostPunk/HipHop fusion heyday, the play was an acerbic SF farce which inspired a cult following that continues growing to this day.
GALATIA 9 (Elaine Lee); BRUCILLA THE MUSCLE (Susan Norfleet)
STARSTRUCK now inspires a new wave of riot grrrls and noize boys with the current comics from IDW Publishing, with expanded Kaluta art stunningly colored by painter Lee Moyer.
The remastered STARSTRUCK, IDW Publishing, 2010.
On the heels of that recent success comes this new production of the stage play by the AudioComics company. Elaine Lee revised the script for a new cast, and the performances, music, and sound effects were then mixed in one of the most prestigious mixing studios in the recording industry; The Studio has won multiple Grammies for their state-of-the-art production on CDs by Bruce Springsteen, U2, and The Rolling Stones.
The new Audio Play will release on
October 30, 2010
. Just in time for all of us to have our own costumed freakout!
This Audio release is not available in music or comic stores, so order it directly from the AudioComics site.
Order Right Now While Supplies Last!
New art for the Audio Play by
Michael Wm. Kaluta and Lee Moyer.
The perfect holiday gift!
Whether they're into comics, Science Fiction, STAR WARS, STAR TREK, Monty Python, Firesign Theatre, Riot Grrrl, Alan Moore, LOST, Love And Rockets, FIREFLY, PowerPuff Girls, FUTURAMA, Barbarella, Tank Girl, Funkadelic, or Le Tigre...this one has it all!
Give Them The
Present
That Everybody Wants!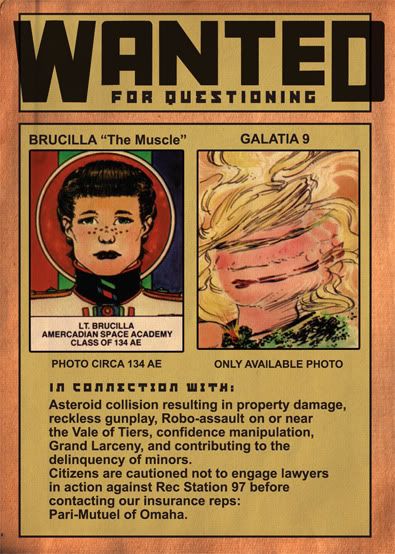 StarstruckComics.com
FACEBOOK:
STARSTRUCK
Group
STARSTRUCK
Fans
Elaine Lee
Michael Wm. Kaluta
Lee Moyer
AudioComics
About STARSTRUCK:
-
"The Return of STARSTRUCK"
:
The greatest comic you've never read!
-
"STARSTRUCK Strikes Back!"
:
The history of the play, the comic, and more!
-
"The Big Bang of STARSTRUCK!"
:
The inspirations for it all and how it connects to everything you enjoy now!